Navient Stock ready for return (NASDAQ:NAVI)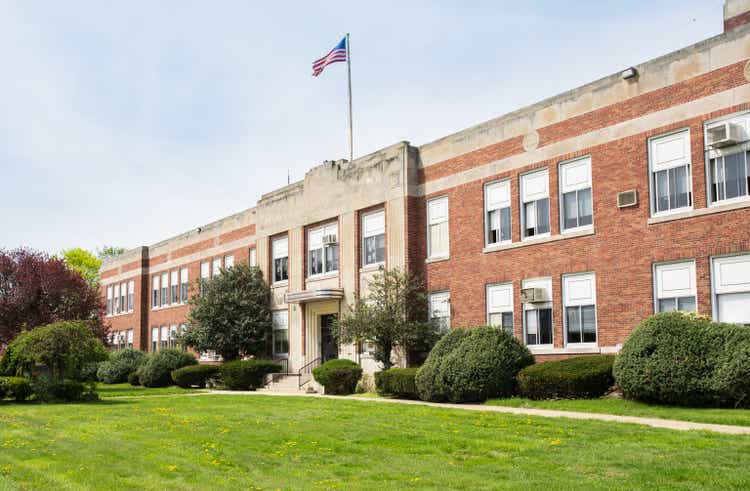 Navient Corporation (NASDAQ: NAVI), a Wilmington, Delaware-based company, is technically listed as an information technology service, but it's best known as a company that handles student loans. The company manages more than 300 billion dollars value of student loans used to attend universities across the country. These loans have 12 million borrowers. In 2018, this made Navient responsible for servicing 25% of student loans in the United States. Recently, however, due to a split with the "Sallie Mae" program created by Congress to service federal student loans, a series of lawsuits and controversies, the company elected to stop servicing all federal loans. . However, they will retain their private loan portfolio and continue to manufacture student loan asset-backed securities. They then sell these systems to other companies to use as financial instruments.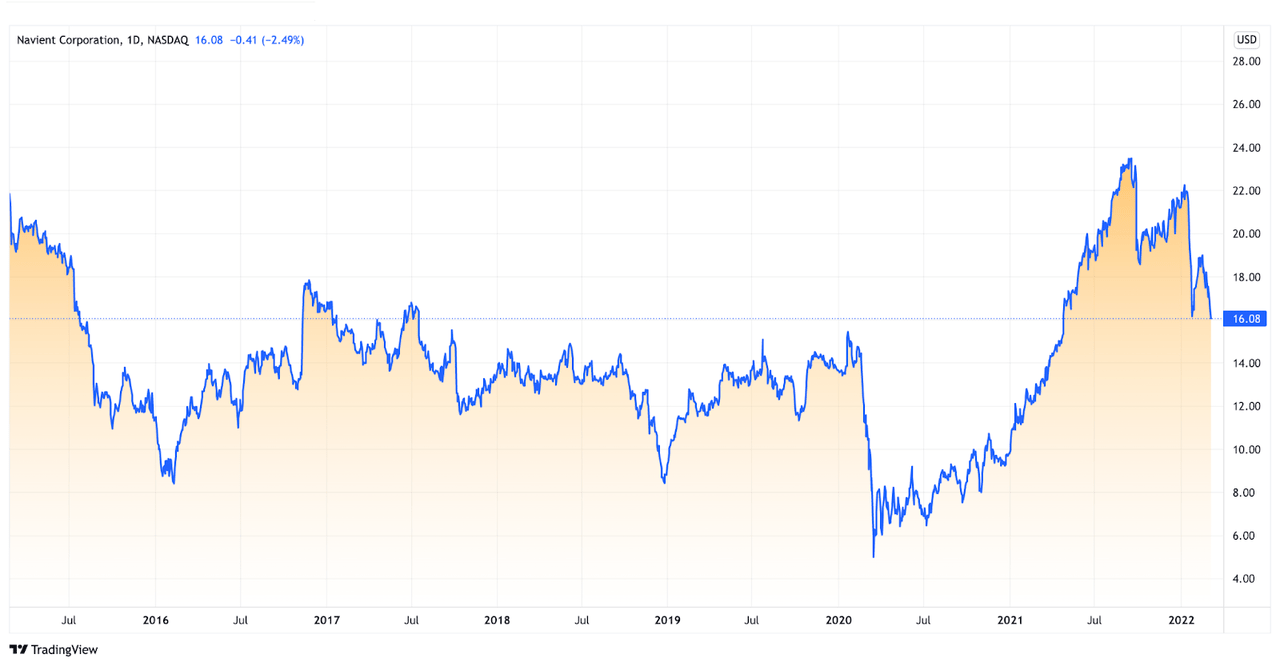 In this article, I will show that under lawsuits and controversies, Navient has quietly realigned its future business plans in a way that will make the business more successful. The lawsuit dealt them a financial blow. Parting with federal student loans undoubtedly changed their outlook, but I think it was actually a smart move on the company's part. By remaining connected to the loan servicing industries in the federal and private sectors, but in the background, as an auxiliary, they allow themselves to continue to benefit from the robustness of the industry in terms of revenue, but remove the liability risk. For this reason, Navient is a buy investors should be bullish on.
Risk factors
The number of lawsuits and controversies in which Navient has been involved is a troubling trend. In 2015 the Consumer Financial Protection Bureau informed company officials that enough evidence had been found to show that the company had violated consumer protection laws. Later that year, the DOJ announced that 78,000 service members serving in the U.S. military had been charged excess interest due to Navient's negligence. In 2016, the company's shareholders filed a class action lawsuit. In 2017, attorneys general in several states filed a complaint in United States District Court alleging violations of the Fair Credit Reporting Act and the Fair Debt Collection Act. In 2021, the US Department of Education ordered Navient to pay $22.3 million over a Sallie Mae employee scandal that saw the company overburden the government. Those issues followed Navient in 2022 with a settlement agreement for another predatory lending practices lawsuit. The settlement awarded plaintiffs $1.7 billion in loan cancellations and $95 million in payments.
While the legal issues are certainly concerning, the financial impact they have had on the company so far has been minimal. A far more concerning issue is their complete restructuring and removal from the federal student loan pipeline. As this has long been the core of their business, it is certainly alarming to see them abandon this business model and move to a new system. Moreover, due to the aforementioned lawsuits, the company's reputation has suffered a massive blow, which further adds to the risk that their new venture will not be well received and therefore not profitable.
Another understated issue is the pressure from many progressive US government officials like AOC and Bernie Sanders to write off student loan debt in his entity. While Joe Biden has already canceled a small chunk of it, there is no indication he intends to go any further outside of an ambiguous campaign promise. However, if the political winds change and this becomes an option that is put on the table, Navient and other companies like it could take a huge financial hit.
cause for optimism
Despite the risk factors the company displays, there is a lot of power in starting over. Navient's new business strategy is smart, and while it reinvents itself, it still remains connected to the revenue stream that has lined its pockets since its inception. In designing asset-backed student loan title systems, they always stay within the parameters of their core business. This move is quite shrewd as it allows the company to continue to profit from the huge revenue stream generated by the student loan industry (although the revenue is lower than their original business) while removing them from the "front lines" and removing the risk of legal liabilities that have haunted the company for many years. So they can generate revenue while keeping a clean slate, staying out of the spotlight. The company has also made significant progress in recent years, with the company currently having a treasure trove of assets. This ensures that the company is prepared for any changes in the market. This is probably what led the company to declare a $0.16 dividend per share during the last financial quarter.
Navit Financial Overview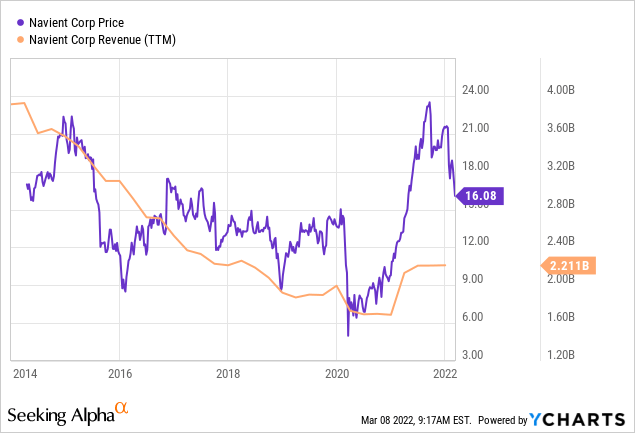 Navient Corporation ended 2021 with a respectable $3.4 billion in revenue. This figure is slightly lower than 2019 revenue of $3.7 billion. While these numbers are decent, they represent a substantial drop from the previous two years. 2018 was the company's most successful year of the past four years, posting $5.6 billion in revenue. 2019 was not far from that mark, with $5.5 billion. While the downward trend is troubling, it is hardly surprising with both the fallout from lawsuits and the freeze in student loan repayments due to the Covid-19 pandemic.
Navient's net cash flow has also improved dramatically over the past three years, posting its first positive numbers by this measure since 2018. The company closed the year with $616 million in net cash that year. . 2019 saw a dramatic downturn ending that year with a staggering negative $1.4 billion. This continued into 2020, likely due to the need to use cash reserves to combat the effects of the pandemic, including the freezing of student loan interest and repayments. 2020 saw a brief respite from the terrible 2019, posting a negative net cash rate of $244,000. This is a positive sign given that the pandemic was still taking its toll and student loan repayments were still frozen. 2021 finally saw the company regain its shape and get back into the positive, closing the year with $41 million. This shows that even with the restructuring, Navient still has a small margin for error, which is essential for a company wading through new waters.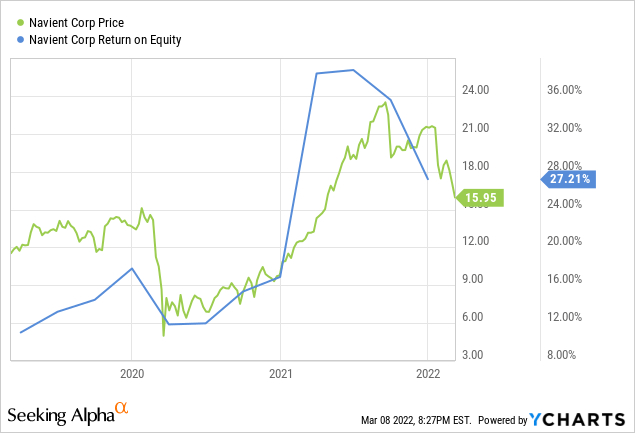 Investors need look no further than after-tax ROE to prove that a financial services company has a history of making smart investments. It is usually a very accurate indicator of a company's profitability and efficiency in generating profits. In this metric, Navient has seen an increase in this metric in three of the past four years. As of 2018, after-tax ROE was 11%. In 2019, the company took a big step forward, achieving a much more favorable after-tax ROE of 18%. 2020 was a bit of a disappointing year, dropping slightly to 17%, while 2021 saw Navient Corporation turn a corner, ending the year with an impressive after-tax ROE of 28%. It clearly tells the story of a stable company with a clear long-term vision.
Conclusion
There are several risk factors when it comes to investing in Navient Corporation. The number of lawsuits they have faced, as well as the damage to their reputation, is certainly worrying. The uncertainty of the political climate is also a serious consideration to take into account, as Democrats have a sector of their party that is pushing for the cancellation of student loans. Additionally, student loan repayments are still partially frozen in light of a struggling post-Covid 19 economy and global conflict. Despite all of this, Navient restructured so that it could recoup a steady amount of revenue while reducing liability and allowing its reputation to recover. It was an underrated move that I believe greatly increases their potential to rebound in 2022. Their ROE rates have steadily improved, giving me confidence in the viability of their investments. As a result, I think investors should be optimistic about Navient Corporation's future and start building a position.